"Poplar Instrument," 2015.
STRETCHER OPTIONS custom wood stretcher barsStrainers are built with poplar. Panels are faced with birch. We mill our own wood. We also stretch canvas, various linens, muslin or any fabric of your choice and prime with acrylic gesso, super smooth gesso over panel, rabbit skin glue, traditional gesso, emulsion ground, pva size, distemper, Airbrush gradients, solid colors, and simple geometries available. We have the best prices. We want your business.
Please don't be shy – email Kristin at stretcheroptions@gmail.com for a quote or call (310) 988-0050 – leave a message if we don't pick up and we'll call you back pretty quickly.
"You guys are like wizards!" – recent customer quote.
Delivery is available.
**** wood for panel face only comes in 4 x 8 or 5 x 5 foot sheets, so any panel over those sizes will have a seam on the face that we fill with bondo.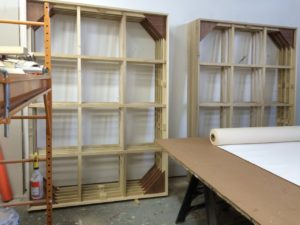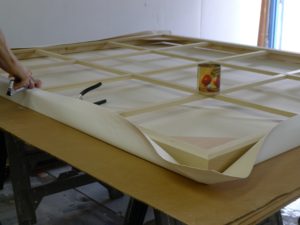 As you can see from the above picture, some of our customers like very deep bars. This one's three inches! Our standard depth for bars and panels is 1 ½ inch. No extra charge for up to 2 inches.